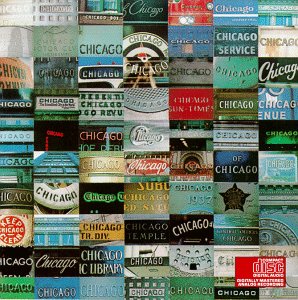 CHICAGO XV (GREATEST HITS, VOLUME 2)
Release Date: 1981
Cover Design: Collage of photos of the word "Chicago," taken at various locations around the city
Proves Cover Theory?: Not Sure (I like this, but it has limited appeal for non-Chicagoans)
Becky Rating: VIII out of X

Note: The 2002 release of The Very Best of Chicago: Only The Beginning effectively renders this CD obsolete. VBO is a two-CD comprehensive set of all Chicago's major hits, covering the band's entire career. Every song on XV, with the exception of the non-hit "Gone Long Gone," a Hot Streets album track, is also included on VBO. This review is presented for historical purposes only.

ET CETERA, ET CETERA

Chicago XV is a second greatest hits package that was released to finish the band's contract with Columbia Records. It picks up where IX left off, with bona-fide hits from VIII ("Old Days"), X ("If You Leave Me Now"), XI ("Baby, What a Big Surprise") and Hot Streets ("Alive Again", "No Tell Lover"). It also picks up some earlier gems, including "Happy Man" and "Questions 67 and 68." Anyone else noticing a pattern here? Of course, all these songs are sung by Peter Cetera. Robert Lamm gets one lead vocal here with "Take Me Back to Chicago," but by and large this is Peter's album.
Paired up with IX, XV provides a good summary of the chart hits of Chicago in the '70s.
The cover is notable for its multiple photographs of the word "Chicago." Take an even closer look here! Someone should come here and organize a scavenger hunt to see how many of these places they can find. I see the Chicago Theater, a police car, a Triple A Chicago Motor Club sticker, a life preserver, Tribune Tower, the Chicago Temple, the Chicago Public Library, and "Keep Chicago Clean."
(c) 2001 and 2002 Becky Banfield for Dos Gardenias Productions